Departure Port : Quiberon - Port Haliguen
Port Haliguen I Pier - 56170 QUIBERON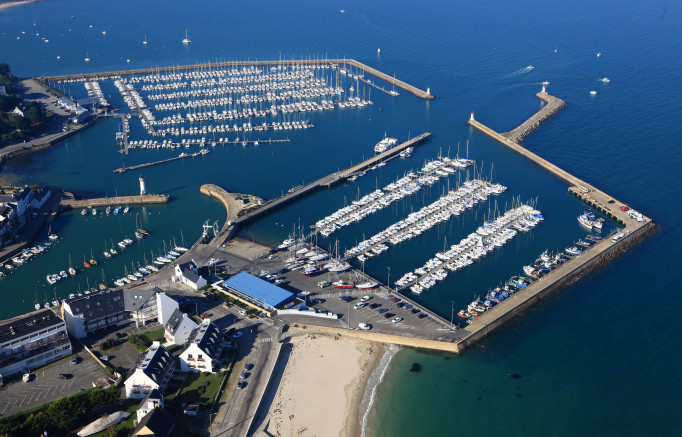 Port Haliguen/Quiberon pier
©Marc_Schaffner Morbihan Tourisme
Cruise Quiberon - Port Haliguen : Tour of the Golfe du Morbihan by boat
Embarking from Port Haliguen, you will discover a fishermen village typical of the Morbihan coastline, once known for the sardines fishing trade and its coastal trade schooners. Then enjoy the crossing of the Quiberon Bay, a yachts' paradise, before entering the Gulf of Morbihan where you'll spend the rest of your day out on the sea.
The cruises depart Tuesdays and Thursdays from July 5 th to August 26 th, 2022. Contact us for cruises operating in June and September.
Port Haliguen is situated 10 minutes from the city centre of Quiberon, near the outstanding Pointe du Conguel from where you can see the famous Teignousse lighthouse, as much dreaded as heartening for yachtsmen and other sailors.
Read more
Access & parking at the pier Quiberon - Port Haliguen
Pour profiter de cette croisière magique sur le Golfe du Morbihan, nous vous conseillons de partir à l'avance pour atteindre Locmariaquer ou Port Navalo et prévoir également du temps pour stationner, vous rendre à l'embarcadère (à pied pour le Port du Guilvin/Locmariaquer et en navette pour Port Navalo/Arzon) et faire contrôler vos billets.
2 parkings less than 5 minutes from the pier, located just outside the Port.
Free parking at Porigo beach
Vauban Parking - free - opposite 7 rue Vauban
Our advices :
Warning ! Specify Port Haliguen Quiberon or Haliguen Quiberon if you ask for your route. Port Haliguen is not Quiberon's only port.
Do not enter the enclosure of the port. You will not find any parking spaces. They are reserved for boaters
Namely: Large-scale works have been carried out very recently in Port Haliguen Quiberon. Do not hesitate to follow the new signs: quiberon pier for the Gulf of Morbihan.
Buy your cruise tickets from Quiberon - Port Haliguen
Achat en ligne
Il est possible d'acheter vos billets de croisière sur le Golfe du Morbihan en ligne via notre site Internet. Sélectionnez une croisière et laissez-vous guider.
Nos Points de Vente à Quiberon - Port Haliguen
To purchase tickets from Port Haliguen for a boat trip to the Gulf of Morbihan, contact the Quiberon Tourist Office: +33 2 97 50 07 84 located at 14 Verdun street.
These tickets are also available for sale in the Tourist Offices of the region, namely Saint-Pierre-Quiberon, Erdeven, Plouharnel, Carnac... but also directly online on this website.
Vente de billets dans les offices de tourisme
• Quiberon +33 2 97 50 07 84
• St Pierre de Quiberon +33 2 97 30 88 86
• Plouharnel +33 2 97 52 32 93
• Carnac +33 2 97 52 13 52
• Auray +33 2 97 24 09 75
• Erdeven +33 2 97 55 64 60
• Hennebont +33 2 97 36 24 52
• Lorient +33 2 97 84 78 00
• Ste Anne d'Auray +33 2 97 24 34 94
• La Trinité-Sur-Mer +33 2 97 55 72 21
 • Vannes +33 2 97 47 24 34
You might like
too
A selection of cruises that you will love to discover.