Escapade à l'île d'Hoëdic en
Cruise no. 10 - Possible departures : Locmariaquer ou Port Navalo

les plages d'Hoëdic
©Gerard_Lochet

paysage de landes à Hoedic - Morbihan Sud - île du Large - Vedettes Angélus
©PIRIOU_Jacqueline

Village de l'île d'Hoëdic - Vedettes Angélus
©DUBOIS_Xavier

Plage d'Hoëdic - Vedettes angelus
©BERTHIER_Emmanuel


le port de plaisance d'Hoedic
©Gérard_Lochet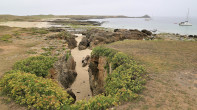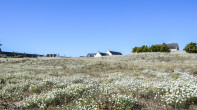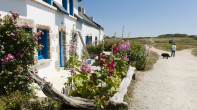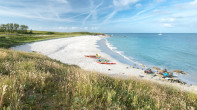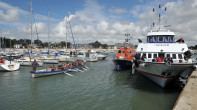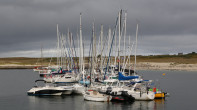 The cruise - Escapade à l'île d'Hoëdic en from
Locmariaquer
Hoëdic has an amazing wealth of wildlife and flora: marine lilies, knapweeds, hollyhocks, plovers, sandpipers, dunes and marine lawns… You'll be charmed by the friendliness of the locals, which you'll notice especially when stopping at one of the bar-cafés of the island.
Crossing Tuesdays and Thursdays between July 5 th and August 25 th, with an additional crossing on Fridays in August.
Réservations required :
TICKETS ON SALE :
ON LINE ON THIS WEBSITE

BY PHONE : 02 97 57 30 24 - We inform people reserving by telephone that tickets must be collected from our ticket offices no later than the day before, at the beginning of the afternoon of the day preceding your excursion.

AT TOURIST OFFICES
Read more
The testimony of Laurent LEROUZIC :

Laurent LEROUZIC
Capitaine de la Compagnie Les Vedettes Angélus
Un Capitaine vous raconte le Golfe du Morbihan
‌Le Golfe est un endroit avec des couleurs et des points de vues magnifiques où nous n'avons jamais le même paysage. Au cours de la journée, on peut en profiter pour faire soit de la pêche à pied pour ramasser des coquillages, soit en bateau pour la pêche aux poissons. C'est un endroit également appréciable car abrité du vent et de la houle du large.
J'habite à Locmariaquer depuis que je suis né (51 ans) et j'ai commencé a naviguer professionnellement à l'âge de 17 ans dans l'ostréiculture où
je m'occupais surtout du dragage des huîtres.
A 37 ans, j'ai commencé à naviguer sur les Vedettes L' Angélus ; tout d'abord en tant que matelot. Il y a énormément de choses à savoir sur le golfe : les endroits où passer suivant la hauteur d'eau, tout en faisant attention aux courants et aussi à tous les plaisanciers puisque c'est un endroit qui est très fréquenté.

Pour les commentaires, tous les pilotes ont les mêmes bases mais chacun argumente comme il a envie, avec plus ou moins d'humour. Les passagers apprécient beaucoup la croisière commentée qui leur montre la richesse et la diversité du Golfe et de ses îles.
Pendant l'escale à l'Île-aux-Moines, nous l'équipage, nous avons juste le temps pour déjeuner , les rotations s'enchaînant toute la journée.
Sur l'Île-aux-Moines, il y a pas mal de choses à faire, surtout de la balade sur les sentiers côtiers dans le bourg avec ses charmantes petites maisons bretonnes et ses magnifiques chaumières.
On peut faire des promenades à pied ou en vélo et aussi faire une visite commentée de l'île en minibus avec Soizig, et puis aussi se baigner à la plage du Bois d'Amour qui se trouve tout près du port.

Mon endroit préféré est à du coté des îles mégalithiques quand on a les îles d'Er Lannic et Gavrinis en alignement.
Les moments où nous croisons des vieux gréements comme les sinagots ou le Forban du Bono, sont toujours exceptionnels.
Read more
Cruise available in
gift card
audio


commentaries included
Weekend offer
25% discount*
for the people of Morbihan
* Excluding Ascension Friday and Saturday, Whit Sunday and August
Fares & timetables from
Locmariaquer
Voici les horaires, la durée et les tarifs de votre croisière. Contrôlez bien le choix de votre embarcadère. Pour les Morbihannais, profitez de 25 % le week-end (voir conditions).
From
Locmariaquer
change
Our prices
Adult
4 - 14 years
- 4 years
Return day Regular price
31,00€
18,00€
5,00€
Return day Morbihan price* -25%
23,25€
13,50€
3,75€
* Excluding Ascension Friday and Saturday, Whit Sunday and August
Cruise Itinerary Escapade à l'île d'Hoëdic en
Voici l'itinéraire complet de votre croisière. Vous pouvez déjà rêver de la beauté des paysages et vous préparer à vivre une journée exceptionnelle sur le Golfe du Morbihan ou vers les îles du Large.
Practical information from
Locmariaquer
Pour optimiser votre croisière sur le Golfe du Morbihan ou votre traversée vers les îles, nous avons réuni toutes les informations pratiques. Besoin d'aide ou de conseil ? Appelez-nous de 8h30 à 20h00 au 02 97 57 30 29.
When the Guilvin pier car park is full, you must park in the Wilson car park located 500/600 meters from the pier.
Other secondary parkings:
porz-Fétan parking
Saint-Michel parking
Sports Ground parking
La Falaise parking
Nautical Base parking
Megaliths parking
As these secondary car parks are located 20 minutes walk from the pier, please be vigilant and arrive at least 45 minutes before departures during busy periods (July and August).
All these car parks are free.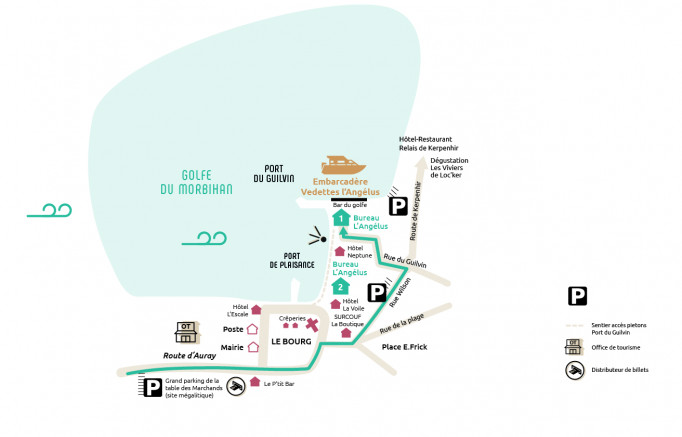 You might like
too
A selection of cruises that you will love to discover.